SUSTAINABILITY AT E&O
We are committed to driving responsible and sustainable business practices throughout our organisation. We instill the principles of sustainability into our strategies, policies and procedures and we integrate economic, environmental, social and governance considerations into our decision making.
As a developer and operator of premium lifestyle developments, we ensure sustainability by creating economic value from all our developments and maintaining a track record in delivering products with exceptional quality. At the same time, we are particularly mindful of our role in preserving the environment and enhancing the well-being of individuals, and the communities we operate in.
Towards this end, we strive to:
undertake responsible sustainability practices to minimise the environmental impacts of our developments and operations and to conserve the environment by consuming resources and materials responsibly;

promote responsible business practices by achieving high standards of governance in our business operations;

improve the quality of life of the individuals and communities we operate in and support the underprivileged by meeting their social needs.
OUR VALUE CHAIN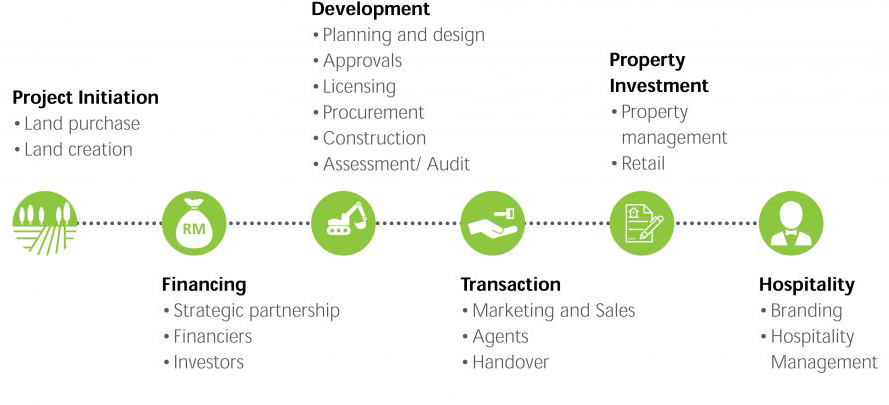 As we strive to become a sustainable property developer, we manage our supply chain across the entire life cycle of the project from its initiation and development stages to subsequent construction and operation stages. We have high expectations of our contractors who are held accountable for their activities and products. We also encourage our contractors and suppliers to be in line with industry best practices. Internal systems and policies have been put in place for us to effectively manage our consultants, contractors and suppliers.
In selecting our main contractors for new projects, contractors are assessed under stringent criteria. These include good track record in respect of fi nancial capability, past performance, timely delivery, commitment towards high quality standards, as well as health, safety and environmental standards. Other relevant criteria such as best price and contractor's work load are also taken into consideration.
We have put in place procurement processes to ensure all purchases are of appropriate quality and of reasonable cost and commensurate with quality. Purchases are made with vendors in preferred vendor lists maintained by each department. Vendors' performance is assessed periodically to ensure they remain competitive in terms of product quality and pricing.
SUSTAINABILITY POLICY
The Group explores and implements sustainable practices across the business whilst attempting to achieve the right balance between economic success, the requirements of our stakeholders and society. The Group's Sustainability Policy aims to integrate the principles of sustainability into the Group's business objectives, strategies and decision-making. Additionally, we strive to cultivate a culture of sustainability within the Group and the wider community shaping a long-term vision to design and build a better place for our future generation.
Please refer to our Annual Report, which can be downloaded at Annual Reports for more details on E&O's sustainability disclosures.